Image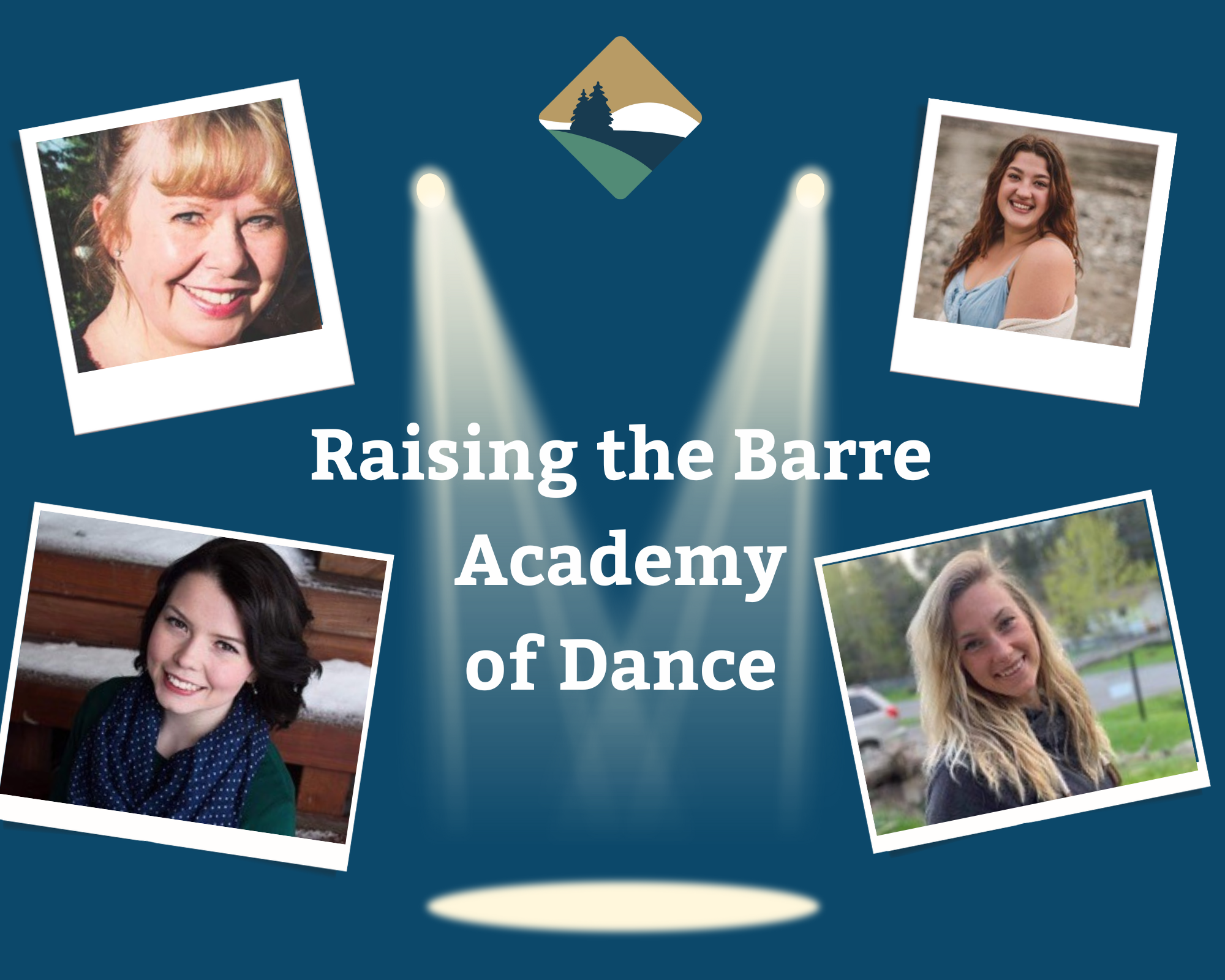 Spotlight Business : Raising the Barre Academy of Dance
 
You can find Raising the Barre Academy of Dance at #24-150 Birch Avenue. Three entrepreneurs have come together to establish a physical space with consistent programming in a variety of disciplines. Jelina Mclean, Judi Ryan-Kellett and Crystal Smith wanted to create a space where kids could attend dance classes, finish homework in a quiet area while waiting for class, and a comfortable reception area for parents.
Jelina McLean has been visiting 100 Mile House over many summers with her family and decided to make the move with her husband to become hobby farmers in the South Cariboo. Jelina started dancing at a young age and has been teaching for eleven years as a certified registered teacher with the Royal Academy of Dance. She has also prepared students for ballet examinations and one of her former students won a Canadian Royal Academy of Dance weekend dance challenge with approximately 50 competitors. Jelina began teaching dance in 100 Mile House through the South Cariboo Recreation Centre and taught in a variety of locations. Juggling farming, her teaching schedule, and the arrival of her second baby, Jelina knew she wanted to open her own studio, but she would not be able to do so on her own. 
Judi Ryan-Kellett is a certified registered teacher with the Royal Academy of Dance. She is now in her 40th year of teaching and has been entering students for ballet examinations for 37 years. Since 2009, she has mentored student teachers training to become certified registered teachers in the Academy. After retiring from 39 years of teaching a variety of dance disciplines in the Lower Mainland (even teaching competitive teams), she relocated to 100 Mile House in 2021 with her husband. Judi was looking forward to joining her daughter, Jelina, on the farm, spending time with her grandchildren, and day to day rural life. While Jelina was on maternity leave Judi took over teaching her classes and found she really enjoyed returning to both the fundamentals of dance and the younger students. In the winter of 2021, Jelina and Judi began exploring the possibility of opening a dance academy.
Little did Jelina know; she had been teaching ballet to the daughter of a future business partner: Crystal Smith. While discussing plans for this new venture in personal circles Crystal, now close friends with Jelina, was contributing so many great ideas with a natural enthusiasm and positive energy, that Jelina and Judi decided she would be a fantastic business partner. Together with Crystal to plan, teach, and assist, they share the responsibility of the dance academy.
Crystal brings a background of ballet and gymnastics and decided to take the course Acro Dance through the Acrobatic Arts. Crystal grew up in 100 Mile House and participated in dance and gymnastics throughout her youth and now can share her love of dance in a creative space. This busy Mom of three is excited to share the love of dance while teaching her students respect for each other and their teachers. Dance is teamwork and even if her students do not pursue dance beyond childhood, they have left her classes with positive character traits and the knowledge of how to be a member of a team.
Raising the Barre Academy of Dance offers Ballet, Acro, Jazz, Tap, Hip Hop, Lyrical, Contemporary, Parkour; and Musical Theatre will be coming in January. They also offer adult classes in Advanced Adult Ballet and Freestyle Barre Class. Six-week drop-in classes for Adult Hip Hop will be rotated through a variety of disciplines.  A student teacher program that mentors young dancers in a supportive environment has been established to create the same opportunities their current teachers took advantage of in their youth.  
Kim MacDonald has joined the group as a dance teacher. Ten years ago, Kim MacDonald was attending Jelina's dance classes, so the connection was immediate, and Kim found the studio a natural place to share her talent. Kim loves to witness the progression of her students' skillsets and celebrates the moment when the practice comes together. She has been teaching for four years and has completed training for Level 1 & 2 IDTA Dance Teacher course. 
This group is talented, dedicated, and passionate about fostering the love of dance. They want to encourage participation at all levels and age groups with plans to have their dancers participate in community events, dance recitals and competitions.
You can find Raising the Barre Academy of Dance on Facebook or email them your questions at: raisingthebarreAOD@gmail.com.
______________________________________________________
Interested in Being Featured in our Business Spotlight?
 
To apply for our monthly Spotlight on Business feature, please fill out the Introduction form below. We will contact you to arrange an interview and discuss which month your business may be featured.
Previous Spotlights on Business
For all business related inquiries, please contact:

Joanne Doddridge - Director of Economic Development & Planning
Office:  (250) 395-2434          Fax: (250) 395-3625
Email: jdoddridge@100milehouse.com
Address: PO Box 340, 100 Mile House, BC  V0K 2E0