Image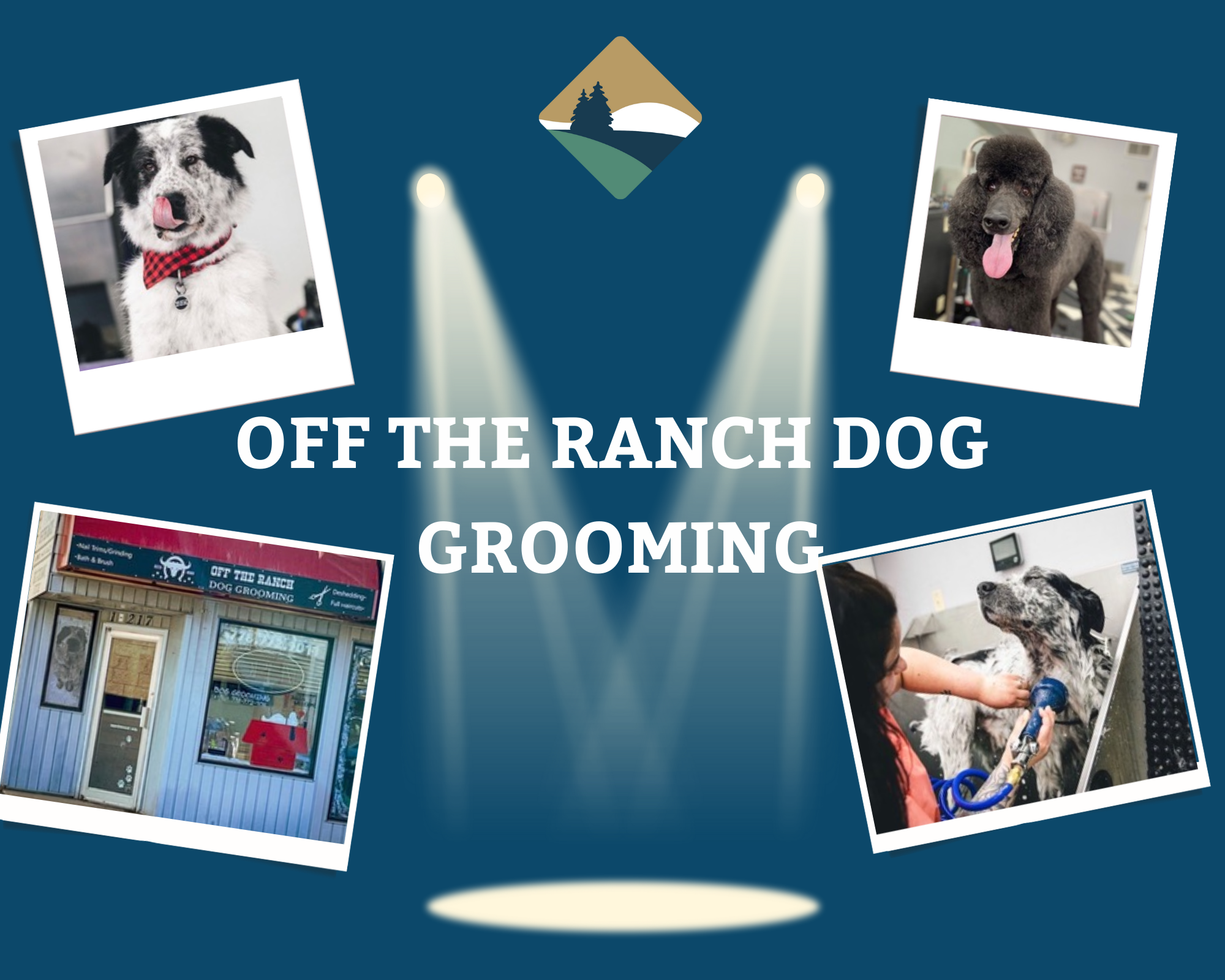 June Spotlight Business : Off The Ranch Dog Grooming
 
Off the Ranch Dog Grooming Jessie Dykstra has always loved dogs.  During high school she fostered over 200 rescue dogs. When she graduated and moved out, she immediately adopted her own dog Everett, the official mascot of Off the Ranch Dog Grooming.  This gray Pyrenees and Anatolian shepherd is featured in the window art on the front of the shop. He is friendly and loves to greet everyone when they enter the shop. 
Originally Jessie was pursuing a career as a dog handler with the RCMP and then switched programs to become a dog handler with Border patrol.  When she secured employment with Pet Smart at their Langley location she fell in love with grooming. Shortly after she attended grooming school and has been enjoying working with her furry clients ever since. Jessie has arrived in 100 Mile House as a newlywed and when a job opportunity fell through, she was encouraged by her former employer/mentor Michelle Hammerschmidt, Chauvet the Dogs Company, to open her own salon.
This suggestion gave Jessie the confidence to move forward and she started viewing potential locations. She set up shop at #1 – 217 Birch Avenue where she provides a full array of grooming services for dogs.  Her new space allows Jessie to provide one on one grooming services. This entrepreneur enjoys providing baths, haircuts, nail trimming and deshedding services. She also enjoys sharing tips with pet owners on how to maintain their dogs' coats and nails.
Jessie loves her new slower paced lifestyle, the friendly waves from people passing her shop, the sense of community and the relationships she has built through her clients. "You definitely feel you get know people better and you see them more often." 
Contact Jessie to book an appointment for your dog at 778-772-9011 and you are welcome to follow Off the Ranch Dog Grooming on Facebook, Instagram and Tik Tok.
______________________________________________________
Interested in Being Featured in our Business Spotlight?
 
To apply for our monthly Spotlight on Business feature, please fill out the Introduction form below. We will contact you to arrange an interview and discuss which month your business may be featured.
Previous Spotlights on Business
For all business related inquiries, please contact:

Joanne Doddridge - Director of Economic Development & Planning
Office:  (250) 395-2434          Fax: (250) 395-3625
Email: jdoddridge@100milehouse.com
Address: PO Box 340, 100 Mile House, BC  V0K 2E0