Image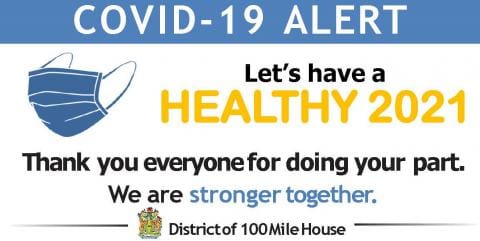 The District of 100 Mile House is closely monitoring the COVID-19 (Coronavirus) situation in British Columbia. Our top priority is the health, safety, and well-being of the public and our employees. We are focusing on maintaining essential services that our citizens rely upon.
The District of 100 Mile House continues to work with internal and external partners, including our local health authority, Interior Health, on a proactive approach to deal with COVID-19.
MASK REQUIREMENTS
Masks are required for everyone in all public indoor settings and workplaces.
Effective November 20, as directed by the Provincial Health Officer, all visitors to District of 100 Mile House facilities must wear masks or face coverings. 
The District Office is open, we do encourage you to call or email if possible.
The Office number is (250)395-2434 and you can email district@100milehouse.com. Marten Exeter Hall, the Valley Room, and the Visitor Information Centre are currently closed. Employees are not required to wear masks in their individual offices or in protected/isolated areas away from others. This Order does not apply to visitors with medical exemptions or those who are under the age of two years.
For further information about the Provincial Health Orders, please visit the BC Government website.