The District of 100 Mile House and the Cariboo Regional District (CRD) have partnered up to undertake a South Cariboo Housing Needs Assessment (HNA). This HNA will fulfil our obligations under the Province of British Columbia's new legislation which took effect in April 2019. This legislation requires local governments to collect data, analyze trends and present reports every five years that describe current and anticipated housing needs in their communities.
The areas to be considered in this HNA include the District of 100 Mile House and CRD Electoral Area G (Lac La Hache/108 Mile Ranch), Electoral Area H (Canim Lake/Forest Grove), and Electoral Area L (Lone Butte/Interlakes).
We want to hear from you!
In addition to research from publicly available data sources, we will also undertake a process of gathering feedback from the community through consultation with stakeholder groups, public meetings, and an online survey. This feedback will be gathered from June to August 2021. The method of gathering the feedback will depend on the nature of public health orders at that time. If possible, opportunities will be given to meet in person in several locations, but if necessary due to the Covid-19 restrictions this summer the feedback will be gathered using video meetings.
** Updated with confirmed location and times  **
100 Mile House: Friday, July 9, 2:30pm and 4:30pm in Centennial Park. We will be under blue and white shade canopies below the playground. Bring your own lawn chair of possible, but we will have a few extras.
108 Mile Area: Saturday, July 10, 2:30pm and 4:30pm at the 108 Mile Community Hall. Washrooms will be available.
Lac la Hache: Monday, July 12, 4:00pm and 6:00pm at Lac la Hache Community Hall
Forest Grove: Tuesday, July 13, 4:00pm and 6:00pm at Forest Grove Community Hall
Lone Butte: Wednesday, July 14, 4:00pm and 6:00pm at Lone Butte Community Hall
Interlakes Area: Thursday, July 15, 4:00pm and 6:00pm at Interlake Community Hall
We also hope to provide some additional opportunities to meet with us at a couple of farmers' markets this summer and will publish those details here as well.
You can also give us your feedback on housing through our online survey. Even if you're planning to attend a public meeting we'd also love to get your feedback through the survey.
Final Report:
The final report will be completed and published by the end of November 2021. Although the report is a requirement under the new provincial legislation, we are excited about the opportunities that will be presented to address our region's housing challenges. We will be publishing the final report to our website once it's ready.
Image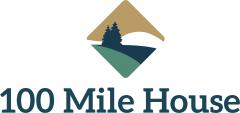 Image