Image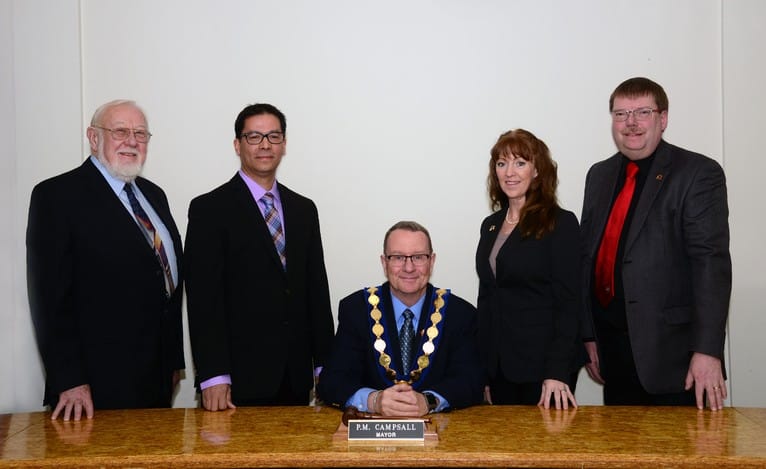 Council members: Councillor Ralph Fossum, Councillor Chris Pettman, Mayor Mitch Campsall, Councillor Maureen Pinkney and Councillor Dave Mingo 
Mayor Mitch Campsall
Mayor Campsall was re-elected in November 2018 for his forth term of office. Prior to serving as Mayor, Mitch served as a Councilor for 11 years. He also served as a Director on NDI for 6 years and has served as the District director on the Cariboo Beetle Action Committee. Mitch has been a resident and business owner in 100 Mile House for 30 years and spends as much time as possible with his family, wife Heather, 3 daughters and 3 grandchildren. He is also involved and supports many aspects of our community. He spent many years on the Board of the 100 Mile House Lions Club and has participated and supported many other charities and organizations in our community.
Mitch is a past member of the 100 Mile House Fire Department and past President of the South Cariboo Fire Fighters Association. When on Council, Mitch held the position of Chair of the Public Works Committee (now known as Community Services) for 10 years, was a member of the South Cariboo Recreation Commission for 6 years and Chair for Community Schools for 5 years. Mitch believes in putting the interests of the citizens of 100 Mile House first and he will continue to work hard on economic stability and development. Mitch's door is always open to the public and community and looks forward to hearing all ideas and exploring community ideas. 
Councillor Dave Mingo
Councillor Mingo was also re-elected in November 2018 and is passionate about our community and feels this is a wonderful place to call home. Born and raised in Mission BC, Dave arrived in the 100 Mile House area in 1994 with wife Kerri. An avid outdoorsman, Dave enjoys fishing, hunting and motorcycling. He is currently President of the 100 Mile Fly Fishers and an active member of the Lone Butte Fish and Wildlife Association. Dave is currently a licensed real estate professional for Re/Max 100 Mile House.
Councillor Ralph Fossum
Councillor Ralph Fossum was also re-elected in November 2018. Ralph has lived in the 100 Mile House area for over 35 years. Ralph was previously on 100 Mile council for three terms in the 1990's. Ralph is an active member of the Rotary Club, a Director of the South Cariboo Health Foundation, and part of the South Cariboo Community Concerts. Since retiring from his career as a notary public and property manager, Ralph has been active with tutoring and community events. Ralph loves duplicate bridge and the great outdoors! 
Councillor Christopher Pettman
Newly elected to Council in 2018, Chris has shown leadership in the community through his volunteerism and various board work. Chris was elected as a Trustee to the School District #27 Board in 2012, has served as Vice President of the South Cariboo Chamber of Commerce and also as a board member of Stemete7uwi Gathering Place Friendship Centre. 
Chris earned an MBA with a specialization in Social Enterprise which has become very useful in his career as he is the Executive Director of the Cariboo Family Enrichment Centre; a non-profit social services organization, Chris is a social justice advocate and believes that representation matters.  As a member of Cowessess First Nations, Chris is proud to be the first First Nation on the 100 Mile House District Council.
Chris has lived in the Cariboo since 1982, is married and has two wonderful children. In the summer he can be found in his garden tending to the hollyhocks; in the winter inside cheering on the Maple Leafs. 
Councillor Maureen Pinkney 
Also newly elected to Council in 2018, Maureen brings with her some political experience from her time serving as the Cariboo Regional District Area L Director from 2002-2008, and the CSRD from 2008-2010. Maureen also served as a board member of the Property Assessment Panel from 2008-2010. 
As an active volunteer, she serves as Secretary of the 100 Mile House Wranglers, has past experiences with 100 Mile House Rotary Club, RCACC Cadets, 100 Mile House Snowmobile Club, Alternate Justice Program, 100 Mile Legion Bingos, 100 Mile House Chamber of Commerce, 100 Mile Merchants Assoc., Women's Business Assoc. and many more.
Maureen was born and raised in 100 Mile House and is currently living at the 108 Mile Ranch with partner Bill. She enjoys being active, golfing and helping out whenever she can.